Welcome to our online store!
Shopping cart:
0 items, 0.00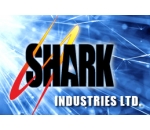 Shark Industries was established in 1983 by Diana Mini in Chicago, IL. In 2001, we relocated our manufacturing to a new facility in Rockford, Minnesota. Our 50,000 square foot building houses our expanded manufacturing/assembly plant. Among the top products we manufacture are Star-Brite Premium Pads and Aluminum Oxide Resin Bonded Cut-Off Wheels.
In 2010 & 2011 Shark Industries was named one of the top 5000 fastest growing companies by Inc. Magazine.

We have received a Certificate of Commendation for Outstanding Contributions to the Minnesota Economy.

Mac Tools awarded Shark with the Best New Supplier Award in 2007.

We take pride in our products, customers and employees.
YourTireShopSupply.com Easy Order System
You can add quantity(s) from multiple products and click on the "add all" button at the top or bottom of the page and have all of your products added to your shopping cart.
Model #SHA24
SHA24 Buffing Stone for Steelbelted Tires Ascot No. 534-80024 Round Head Pencil - 1/4" Stone Diameter