Welcome to our online store!
Shopping cart:
0 items, 0.00
Ideal Heated Knives, Inc.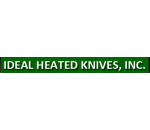 Ideal Heated Knives, Inc. has been producing high-quality, electric hand tools in the United States for more than 50 years. We are one of the rare companies that has always been there to serve its customers when so many others have disappeared, and when so many companies are looking to foreign producers at the expense of product quality.