Welcome to our online store!
Shopping cart:
0 items, 0.00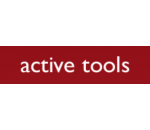 Active Tools is the global leader in the next generation roadside tire repair solutions supplying the automotive industry as well as the motorcycle, cycling, recreational vehicle, and sporting goods industries. Wherever there is a tire to repair or inflate, Active Tools has a better alternative to the traditional spare tire. The world's leading automotive companies such as Audi, Ford, General Motors, Hyundai, Mercedes-Benz, Mitsubishi, Porsche, PSA, and Volkswagen are revolutionizing the industry by deploying Active Tools tire repair technology in their vehicles.
Today, over 12 million drivers enjoy substantial fuel savings from Active Tools' light weight alternative to heavy and bulky spare tires. When the product is put to use in the event of a punctured tire, its ease of use guarantees that any person can rapidly and safely get back on the road.
Through German engineering and world class TÜV certified ISO-TS16949 Chinese manufacturing facilities, Active Tools brings the automotive quality level to the retail consumer through its full range of AirMAN® Tire Repair Kits and Inflators.